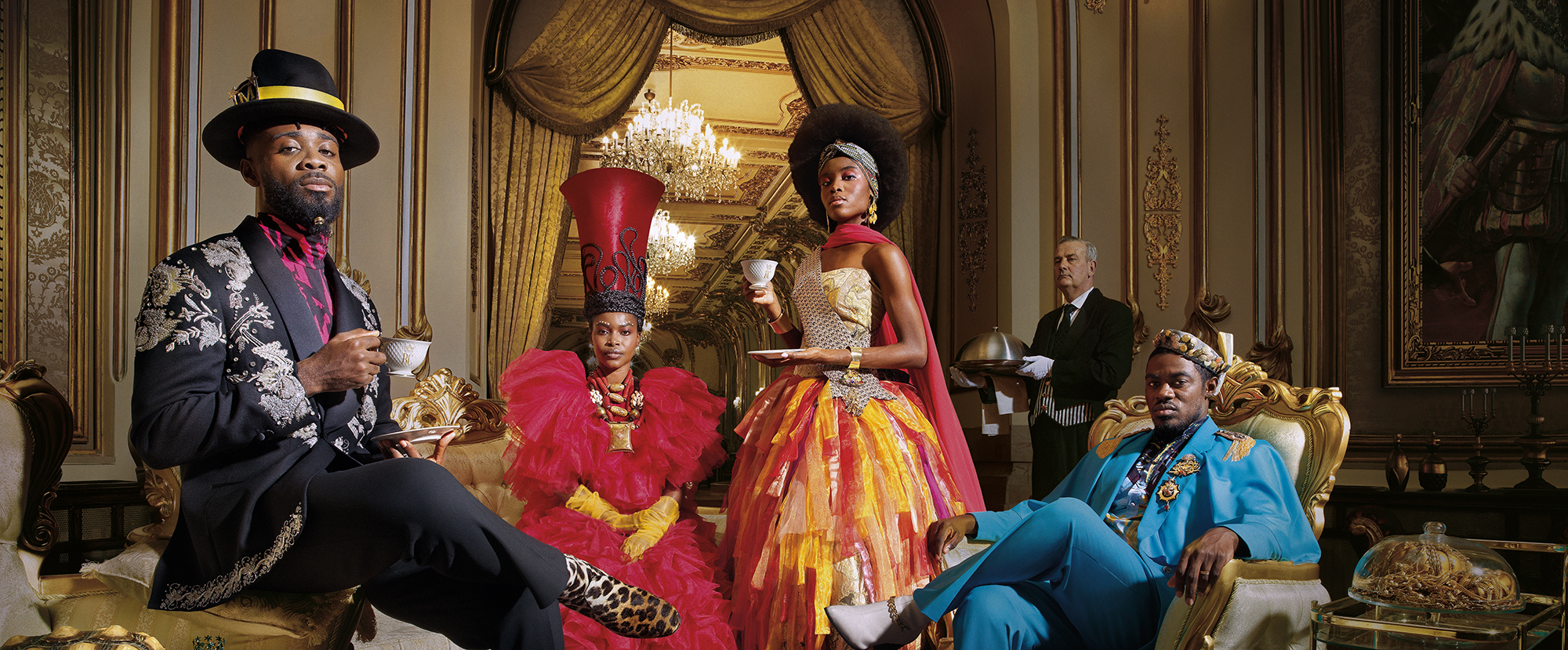 MEET THE MODERN MONARCHS
Meet our Modern Monarchs, we are African royalty with loyalty to owning our crown, flamboyantly. We are lions and lionesses who sit at the top of the food chain. We are rulers of royal revolutions. An affluent anarchy is our anthem. Izimpondo zethu maziphakanyiswe (let our horns be lifted up). We own our crown, aristocracy is now Afristo-kasi. We are the Afristocrats, we are your Modern Monarchs. Meet Ndlovukazi, Kgosi, Hulisani and Mkhonto-Isizwe.
KGOSI (33)

The trendsetter, the flamboyant friend, he is the bourgeoise socialite, wears Maxhosa clothing, spends his time at Saintly Sundays in the hub of Sandton prestigious nightclubs, he doesn't work much in his days but makes sure he is in the know of all things trending on SA Twitter

NDLOVUKAZI (33)

Born into the Zulu monarchy, she is the pride of her family, she sits at the helm of royalty. Graceful, poised, headstrong. She is a 33 year old woman, determined to take over and lead her family lineage to great heights.

MKHONTO-ISIZWE(31)

Mkhonto believes in the lineage of his family customs, values and is a staunch traditional Zulu man. Entrenched in ubuntu, he understands his role and leads by example. He is the most educated amongst his group of friends with a doctorate degree in philosophy.

HULISANI (28)

Hulisani a Venda young lady who is deliberate and evolved, taking her family history and her environment that has shaped her identity. She believes in empowerment, personal development and celebrates success in a momentous way.

Hlalanathi (100)

Hlalanathi has been part of the royal house for many centuries, he  offers guidance and support to the royal family members. He is kind, funny, quirky intuitive and embodies great wisdom. He is the third eye for each royal family member and wants them to embody their true African selves with confidence.
#OWNYOURCROWN